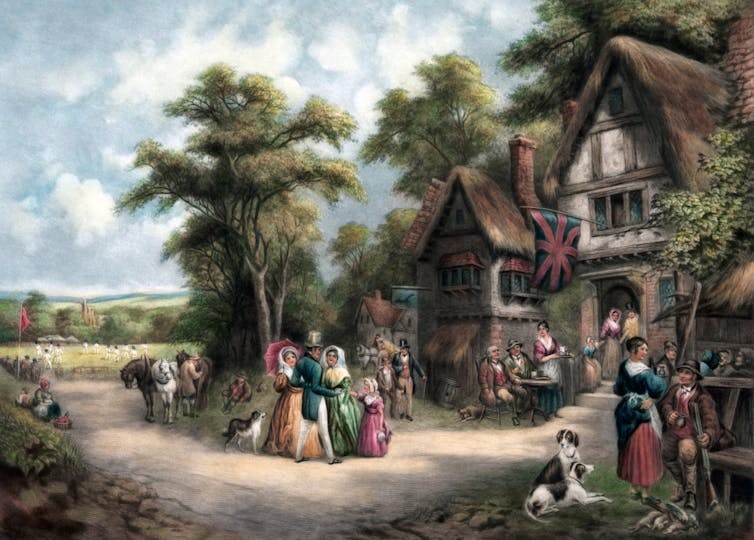 Stephanie Palmer, Nottingham Trent University
The season of the good old summer "fayre" is here and many UK readers will be heading off to eat tea and scones and take part in the tombola at their local village fete. There, it's a good bet, they will hear of local people's concerns that new housing developments foisted on them by the government will ruin the character of their idyllic rural community.
But the myth of tranquil village life was well and truly exploded in the Victorian age when many writers concluded that life in England's small rural communities was not a simple idyll of tea, vicars and charitable works.
For many people, especially those who may not have visited the UK, the most accessible pictures of village life are those painted in novels: who can forget the timeless portrait of life in a sleepy Dorset community in PG Wodehouse's Blandings series, or EF Benson's Mapp and Lucia books, set in a fictional Sussex village? But fiction has also been highlighting the negatives of village living for more than a century.
The "greetings card" scenario of village life was established early. In her memoir Our Village (published in five volumes between 1824 and 1832), Mary Mitford – who lived at Three Mile Cross near Reading in Berkshire – gives us a classic rendition of peaceful village life. There are quaint depictions of servants, chaste suitors, elderly brides and grooms, blacksmiths and gypsy fortune tellers.
Our Village contains all the myths of village life. Everyone is familiar: a village is a little world "where we know everyone, are known to everyone, interested in everyone, and authorised to hope that everyone feels an interest in us". There are no newcomers, nobody is systematically excluded and nobody is living a secret or misunderstood life. Poverty is relegated to the margins – there's only the occasional mention of the workhouse and, Mitford assures her readers, the village is a collection of cottages, not "fine mansions finely peopled".
But even in the 1820s, such a village felt under threat from the railways, improved roads and the increasing size of the towns of the industrialised North. And no sooner did Mitford complete Our Village than other authors began to parody or correct her vision.
Elizabeth Gaskell's Cranford (1853) is a gentle text still very positive about life in a confined locality. Although Cranford is a town outside "Drumble" – her stand-in for Manchester – it resembles Mitford's village in that everyone knows each other and the narrative is focused on a limited set of characters. In the case of this novel – and so many others in the tradition – the main characters are women, and it is women's unpaid labour that makes the community run smoothly. Yet Gaskell gently mocks her characters, Matty Jenkyns, Miss Pole, and Mrs Jamieson, for their conventionality, triviality and timidity.
The women follow strict social rules – an entire chapter revolves around whether these august personages should stoop to visit a former ladies' maid who has set up a milliner's shop and hence was "in trade". In another chapter, the women grow fearful of outsiders when they hear of a cluster of burglaries in the neighbourhood, which proves to be founded on rumour.
Thomas Hardy's villages such as Weatherbury in Far from the Madding Crowd (1874) or Marlott in Tess of the D'Urbervilles (1891) are idyllic in some ways, but not in others. Shepherds are close enough to nature to saunter out of their huts at night to tell the time by stars, and the slow pace of life allows for ample opportunity for community and flirtation. Yet sexual transgressions are treated to the full judgement of an unforgiving community, and questions of money and class interrupt any readers' expectations of rural bliss.
American moral tales
These books sold well in the US, even though villages there were subject to dramatic population shifts westward and industrial development. Writers in the US sought to reinforce or contest Mitford's vision.
After reading Mitford and migrating to a new village in Michigan, Caroline Kirkland wrote A New Home, Who'll Follow? (1839), which mercilessly satirised her vulgar frontier neighbours and the wealthier eastern newcomers. When her neighbours read the novel, they ostracised her – and she never wrote anything as trenchant again.
Although the American regionalism that flourished in the latter quarter of the 19th century is known for romantic visions of village life, upon closer examination, key writers such as Sarah Orne Jewett and Mary E Wilkins Freeman reveal many of village life's negatives.
If Gaskell acknowledges in Cranford that her ladies' kindness to the poor is "somewhat dictatorial", Freeman's A Mistaken Charity (1883) takes this point to its logical conclusion. Two elderly sisters living happily in their dilapidated cottage are visited by Mrs Simonds, a woman who is "a smart, energetic person, bent on doing good". Mrs Simonds arranges to take Charlotte and Harriet to the poorhouse, where they are forced to wear lace caps and sit indoors. Charlotte and Harriet run away.
Revolt from the village
By the 1910s, there was a literary "revolt from the village", and writers including Sherwood Anderson focused on the sexual repression of small town life. Although Sherwood Anderson's Winesburg, Ohio, published in 1919, is set in a town, it is a town of 1,800 people, far smaller than many British villages today. Meanwhile, Stella Gibbons parodied rural melodramas in Cold Comfort Farm (1932), in which, instead of graciously fitting in like the urban narrators of Jewett's fiction, Flora Poste, a visitor from London, forces the members of a dysfunctional family to follow their individual desires rather than their family destiny.

According to these writers, villages can be conformist, unimaginative, repressive, nepotistic. These fictions imply that villages will be harder to maintain now that women have other outlets for their energies. The negatives come from the same source as the positives in village life, and people who wish to defend villages, and the tradition of rural living, should remember this literary ambivalence and the fact that it has gone on for more than 100 years.
Stephanie Palmer, Senior Lecturer, School of Arts & Humanities, Nottingham Trent University
This article was originally published on The Conversation. Read the original article.