Daily Archives:
15 November 2018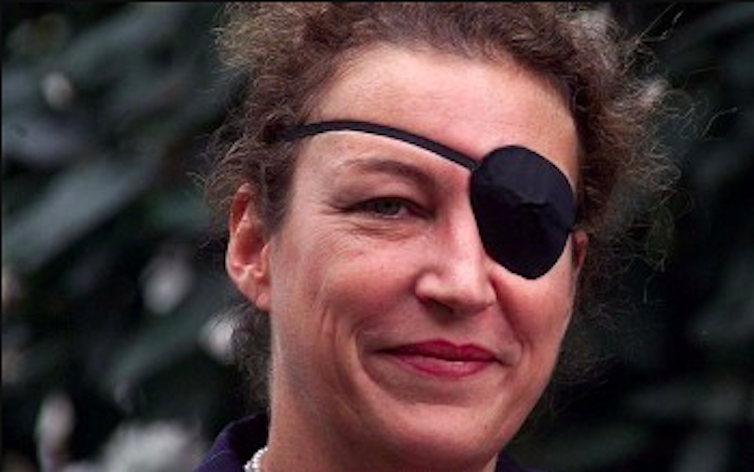 Idrees Ahmad, University of Stirling
For Marie Colvin, it was Lebanon's War of the Camps that brought home the power of journalism. In April 1987 Burj al Barajneh, a Palestinian refugee camp, was besieged by Amal, a Shia militia backed by the Syrian regime.
Colvin and her photographer Tom Stoddart paid an Amal commander to briefly hold fire while they ran into the camp across no-man's land. The assault on the camp was relentless and women were forced to run a gauntlet of sniper fire to get food and water for their families.
One young woman, Haji Achmed Ali, was shot as she tried to re-enter the camp with supplies. As she lay there wounded, no man dared pull her to safety. But then, Colvin reported:
Two [women] raced from cover, plucked Achmed Ali from the dust and hauled her to safety. It is the women who are dying and it was women who tired of men's inaction.
Despite the best efforts of volunteer medics, Achmed Ali would not survive. At the hospital another woman appealed to Colvin to tell the world the young woman's story.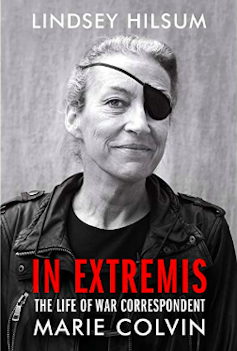 War on Women, the powerful piece Colvin wrote, was splashed across the front page of the Sunday Times on 5 April 1987. "The facts were clear and brutal," writes Lindsey Hilsum in In Extremis: The Life of War Correspondent Marie Colvin, "as Marie had seen it with her own eyes".
The effect was almost immediate. Three days later the Syrian regime ordered its proxy militia to stand down and for the first time the International Committee of the Red Cross (ICRC) was able to enter the camp. A herd of journalists soon followed. "In a few days the War of the Camps was over," writes Hilsum.
Complexity
In Extremis is Hilsum's riveting story of how Colvin went from a carefree idealistic youth in Oyster Bay, NY, to an audacious war correspondent who reported from sites of merciless violence in Lebanon, Palestine, Chechnya, East Timor, Sri Lanka, the Balkans and Libya. Until her death at the hands of the Syrian regime, Colvin remained indefatigable, never losing her idealism or youthful energy.
By eschewing hagiography for complexity, Hilsum has created a captivating portrait. The Colvin that Hilsum reveals is shaped by the loss of a beloved father, by the spirit of competition, by being a woman in a male-dominated field, and, above all, by a moral commitment to bearing witness and a natural affinity for the underdog.
By casting Colvin's triumphs against the demons that pursued her – the turbulence of failed romances, the struggles with alcohol, the traumas of war – Hilsum gives a truer sense of the challenges that she faced. By capturing Colvin's vivacity, generosity, humour and affability, Hilsum also shows how this inveterate raconteur came to be loved and admired in equal measure.
Like Ernest Hemingway, Colvin had invested in her own legend and sometimes strained to live up to it. But there was nothing inauthentic about her capacity for empathy or her commitment to the truth. Though in times of peace she struggled to distinguish herself, in times of crisis she unfailingly outshone her peers. While the Middle East remained her main beat, she also ventured farther afield, from Chechnya to Sri Lanka and East Timor.
But if East Timor was the site of her greatest triumph (her defiant refusal to abandon trapped refugees eventually led to their safe evacuation), Sri Lanka became the site of her greatest trauma, losing an eye to a soldier's grenade while returning from a visit to the Tamil-controlled north. But while the trauma would haunt her and briefly sapped her confidence, she remained undeterred. She courted greater danger in subsequent years and turned the eye-patch into part of her legend.
The making of a legend
By the time Colvin entered Syria in 2012, the reporting landscape had changed. Israel and Putin's Russia had demonstrated that journalists could be targeted with impunity and killers elsewhere had taken note. Before Colvin entered the besieged Syrian enclave of Baba Amr with photographer Paul Conroy, they had been warned that regime soldiers had orders to summarily execute journalists found in the area.
But Colvin and Conroy agreed that the story was worth the risk; they crawled through three kilometres of a drainage pipe to infiltrate. They found Baba Amr's only functioning hospital inundated with the dead and the dying; they met nearly 150 widows and orphans in a crowded basement sheltering from the regime's shelling. Widows' Basement, Colvin's haunting last story for the Sunday Times, was also her most poignant.
What happened next fused Colvin's life and legend and placed her convictions beyond any cynic's doubt. Five days before her death, Colvin had made it safely out of Baba Amr. But having seen what she had seen, she felt a moral compulsion to return. Conroy had misgivings, but he shared Colvin's sense of commitment.
The regime meanwhile had tightened the siege and an informer had alerted it to the journalists' presence. Colvin was conscious of the risks but made a fateful choice: hoping that her reporting would once again stir the international community into restraining a killer, she spoke to the BBC and CNN, emphasising the urgency of the situation. The regime used the signal from her satellite phone to pinpoint her location and killed her with artillery. The regime would lay many more sieges and no western journalist would dare enter another.
At a 2006 Frontline Club (a London hub for foreign correspondants) event about the killing of Russian journalist Anna Politkovskaya, Colvin interrupted the panellists' abstract digressions and encouraged everyone to ask the more pertinent question:
Who killed Anna? That's the best thing we can do … That's what we can do as journalists.
Now Colvin's family is trying to establish the same about her killers. And this is also the best thing we can do as citizens: support the investigation and ensure that Colvin's killers don't enjoy the impunity that Politkovskaya's did. Until we resolve to protect our truthtellers, truth will remain fragile and justice will be denied.
For all her emotional turmoil, personal flaws and misjudgements, Colvin was an exemplary friend, human being and journalist. She maintained an unwavering commitment to showing "humanity in extremis" – with truth, empathy and responsibility. Hilsum has written a book as compelling as its subject.

Idrees Ahmad, Lecturer in Digital Journalism, University of Stirling
This article is republished from The Conversation under a Creative Commons license. Read the original article.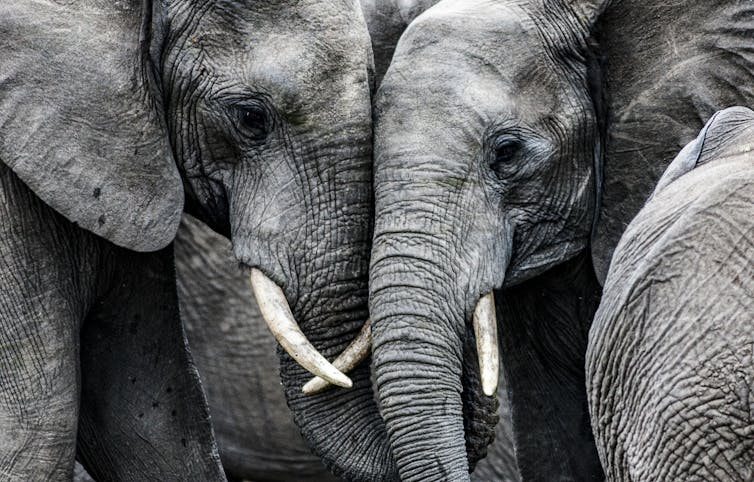 About 15 years ago I was in a Minneapolis conference centre, about to deliver a paper on elephants in Southern African fiction, when I encountered a curious local in an elevator. When I told her that one of my subjects was Wilbur Smith's thriller, Elephant Song, she enthused,
Oh, I just loved that book; I contribute every year now to the Hohenwald Elephant Sanctuary.
I didn't tell her that my paper critiqued the novel for being exploitative, and grossly sensationalist. Despite its title, the book is only tangentially interested in elephants – at least in comparison with Dalene Matthee's famous Circles in a Forest, perhaps South Africa's most eco-sensitive novel ever.
There's no telling what people will get out of their reading. Even in our era of super-saturating graphics and television, photography and film, literature still has a considerable effect on public perceptions of environmental issues. Until very recently, of course, reading was the primary mode of information transfer. Many attitudes towards, say, elephants were established through literature, and persist in other media today.
This is the purview of my new book, Death and Compassion: The elephant in Southern African Literature. The book takes the region south of the Zambezi as its stamping-ground. It explores how various genres of literature reflect attitudes towards elephants. It takes literature in a broad sense, probing beyond the standard fiction and poetry into non-fiction forms such as hunting accounts and game-ranger memoirs.
Each chapter asks questions crucial to our understanding of our place in the natural world. It does so conscious that this understanding is the great problem of our times, superseding and enveloping all more localised and political squabbles. What is the relationship between science and compassion? Why do men hunt? How do we educate the young about animals, the environment and us? What sense of "community" might include wild and even dangerous animals?
Conflicting emotions
Elephants raise the conflicting emotions involved in humanity's ongoing struggle to balance exploitation and well-being, damage and compassion to a particularly intense pitch.
Can we look to indigenous cultures for guidance, as conveyed by rock art, folktales and proverbs? The rock art is relatively opaque, while oral productions are now so refracted through translation into modern literary media that it's hard to be sure what the originals' attitudes towards elephants might have been. Reverence, awe, and taboo are evident enough, but it seems that animal compassion is an invention of modernity.
Compassion, at least as it emerges in this literature, seems to develop in response to destruction. It strengthens belatedly but proportionately to the catastrophic decimation of wildlife under invading white firepower, and the consequent sense of loss. I found the chapters on the 18th Century travel accounts (from Pieter Kolbe through François Le Vaillant to John Barrow), and the later nineteenth-century hunting accounts (from Roualeyn George Gordon-Cumming to Frederick Courteney Selous) the hardest to write.
The unremitting slaughter related by these adventurers is stomach-turning to say the least. Not that the hunters were oblivious to an ethical issue: without exception they engage at some level with already-nascent arguments for compassion.
Without exception they find literary methods to evade or suppress any emotions which impede the drive to kill. The genre is distinguished by its evasive manoeuvres designed to avoid thinking about it at all.
The adult fictions, from H. Rider Haggard to Wilbur Smith, are little better, being largely gratuitously gory adventure-tales which come to centre repetitively on a duel-like situation: single hunter versus great old tusker. It seldom ends well for the elephant.
Still, a shift becomes discernible in mid twentieth-century novels. "Conservation" is gaining traction, so the novel, just as it had migrated out of the hunting account, now drifts into some commonalities with the modern game-ranger memoir. The ranger becomes the hero, saving the tusker from poachers.
Of course, shadowing all this is the ivory trade. It had existed for centuries, drove most of the early slaughter and drives the renewed slaughter today. In some estimates, an African elephant is being killed every 15 minutes.
Ironically, because of the colonial-era establishment of game reserves like Kruger, southern Africa's elephants so flourished that that other side of slaughter – the organised "cull" – for a time became the management tool of choice. The ethics of culling preoccupy both late novels and memoirs by rangers, scientists and managers (such as Caitlin McConnell and Lawrence Anthony).
Perception of elephants
In most recent works, the relatively new perception of elephants not just as mobile repositories of ivory but as emotionally sensitive, uniquely communicative and socially complex – almost human, even a model for humans – achieves unprecedented prominence.
This is especially so in fiction for children, in which compassion and empathy seem more acceptable, as if they are merely childish motivations for action in the world. A disastrous stance.
Poachers and ivory traders are unlikely to be persuaded by literature. Nevertheless, understanding stories – those of the murderous as well as of the compassionate – is vital to generating the critical mass necessary to save natural environments and their multiple denizens, from elephants to herons, from octopi to ants – and ourselves – from the myopia of Mammon.
Compassion alone, unanchored by economic and legislative power, is unlikely to reverse the tide of environmental destruction, but without cross-species compassion, we are surely lost.
Death & Compassion: The elephant in Southern African Literature is published by Wits University Press
Dan Wylie, Professor of English, Rhodes University
This article is republished from The Conversation under a Creative Commons license. Read the original article.